The history of papermaking in the Sekishu / Iwami area of the Shimane Prefecture — goes back centuries. According to Kamisuki Chohoki (A Handy Guide to Papermaking published in 1798), Kakinomoto No Hitomaro, a leading official in the area, taught papermaking skills to the local people around 704-715 AD.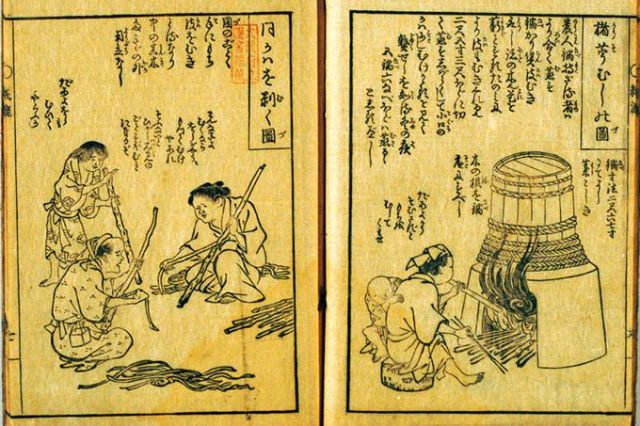 Kamisuki Chohon written by Kunisaki Jihei and published in 1798
From that time on, for over 1000 years, the art of handmade washi has been maintained and preserved within the area, and in 2009 this paper was designated by UNESCO as an Intangible Cultural Heritage Property, a great honour.
The raw materials for Sekishu washi are fibre from kozo, mitsumata, and gampi shrubs. Kozo and mitsumata are both cultivated in the region, but gampi only grows wild. Sekishu-banshi made from Sekishu kozo is well known as the strongest paper produced in Japan.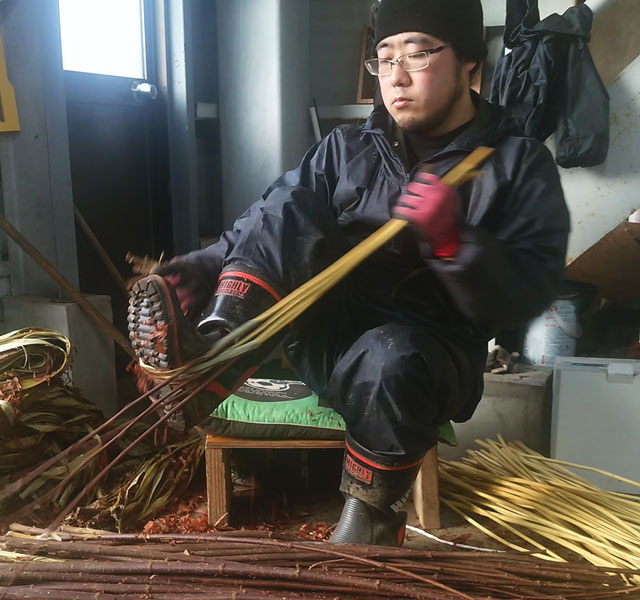 Papermaker, Masaru Nishita striping kozo bark
By the Edo period (1603-1867), Sekishu-banshi became popular among merchants in Osaka for use in account books, and it became widely known. The story goes that when fires broke out, merchants in Osaka would throw their account books into wells. Imagine in the chaos of the fire, people roughly grabbed and dumped many books at a time into the well. But those books made with Sekishu washi were just fine — protected in the water, pulled out later, allowed to dry, and used again. This anecdote illustrates the great wet-strength and durability of Sekishu washi.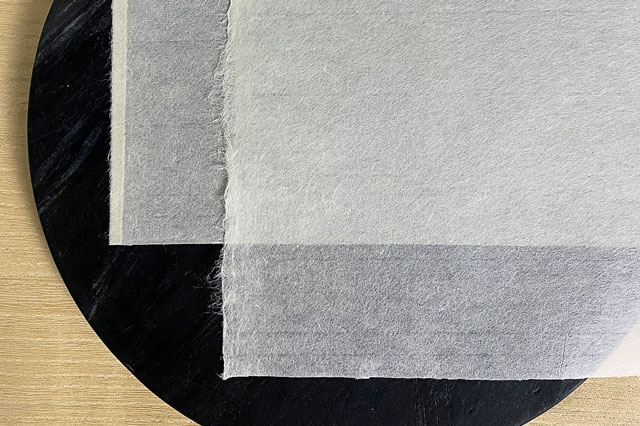 CON1102 Sekishu Banshi Tsuru Large (HW)
This November, The Japanese Paper Place is excited to welcome Masaru Nishita, the eighth generation of his family of makers of Sekishu washi. He will be presenting Sekishu washi in a special exhibition at our Toronto showroom, as well as attending two other events to share his knowledge about this too-little-known creative resource. Nishita's visit offers a great opportunity for everyone to learn about and experience washi, to expand their creativity and support this ongoing tradition.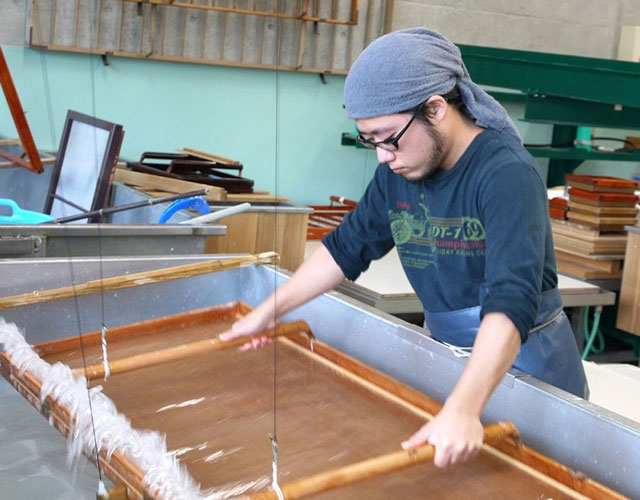 Papermaker Masaru Nishita forming sheets
---
Sekishu Washi Special Exhibition
Nov 16-19, 2022
at The Japanese Paper Place
---
Washi Roundtable: Exploring the advantages and creative potential of Japanese handmade paper
Nov 16, 2022 6:30 - 8:00pm
at The Japan Foundation Toronto
A panel of washi users and specialists, including papermaker Masaru Nishita, will share their unique perspectives on how Japanese paper has endured and thrived throughout the centuries.
See more details: Washi Roundtable
---
The JPP Open House
Nov 17, 2022 12:00 - 6:00pm
at The Japanese Paper Place
The Japanese Paper Place is hosting an Open House as a part of its 40th Anniversary — meet the papermaker Masaru Nishita, enjoy in-store giveaways, washi artists' demos and more! Longevity: 40th Anniversary Juried Exhibition will be also on display during the event.
See more details: The JPP Open House