"I love the smell of ink and paper in the morning" is the statement on a poster in our showroom. Any printmaker will agree. The general perception is that one needs a separate studio space, a large press, and a great deal of technical knowledge to pursue the art of printmaking. Thankfully, that is not true. Many artists enjoy printing relief prints and relief-style collagraphs from home studios – without a press! How is that possible? Introducing, the baren.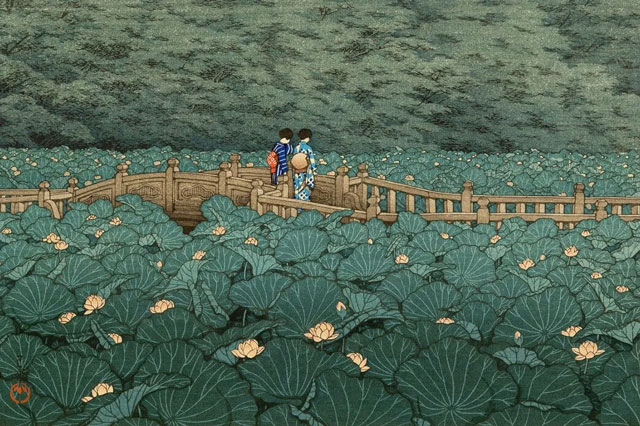 Shiba Benten Pond, Mokuhanga, 1929, Hasui Kawase
A hand tool traditionally used in mokuhanga, Japanese wood block printing, the baren is disc shaped, has a stiff inner core that is covered in layers of heavy washi and coated with black lacquer before being wrapped in a bamboo leaf-sheath which is cleverly twisted to form a handle on one side. The more expensive hon baren has a flat coiled cord core. Daiyo barens, available at the Japanese Paper Place, have a heavy card core.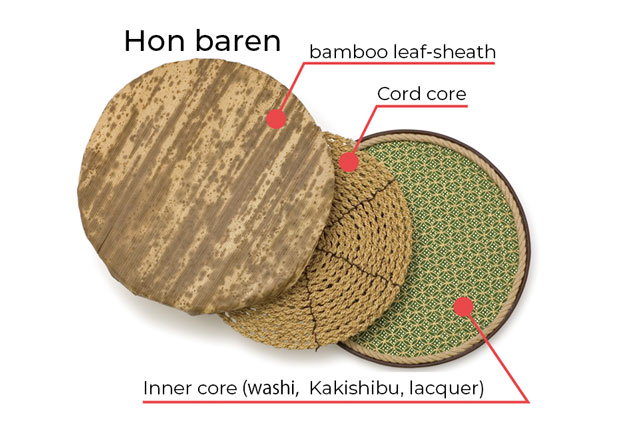 After the block has been inked and the washi carefully placed, the artist takes the baren in hand. Smooth, lightweight, and subtly flexible, the bamboo baren can be worked easily, with varying pressure, over the paper-covered block allowing the artist to transfer the inked image from the block to the washi. The sensitive artist can feel the movement of the baren over the block in such a way that it allows them to adjust their pressure depending on the amount of detail on the block and the texture and absorbency of the washi.
Hand printing with a baren is an excellent choice for printing linocuts, woodcuts and wood engravings, relief collagraphs, Gelli Prints and other monoprint techniques.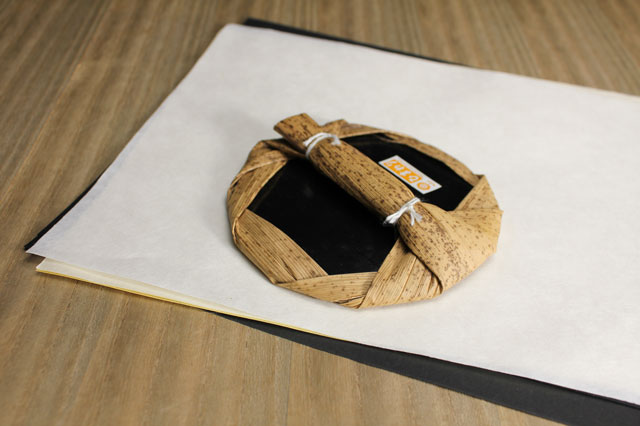 Daiyo Baren
The Daiyo Baren is the perfect beginner printmaking tool. Much easier on the hands, and more easily controlled than the oft-suggested wooden spoon! It is recommended that the surface of the baren be treated with oil (camelia oil is recommended, but any lightweight, plant oil can be used). Very little oil is needed, and it is best applied and massaged into the bamboo leaf using a soft cloth. Doing so will lengthen the life of your baren by preventing the leaf from cracking. One tip to encourage smooth movement while using the baren is to put a sheet of baker's parchment between your washi and the baren. The parchment provides an ultra-smooth, translucent surface.
We are pleased to offer the Daiyo baren in two sizes.