So much back-to-school hype focuses on stationery, back packs, and new shoes, but what about back-to-school for the college and university crowd? Especially the art students! You want to prepare your shop for the upcoming demand for quality paper for printmaking and drawing but there are so many papers to choose from. Don't fret, we have you covered!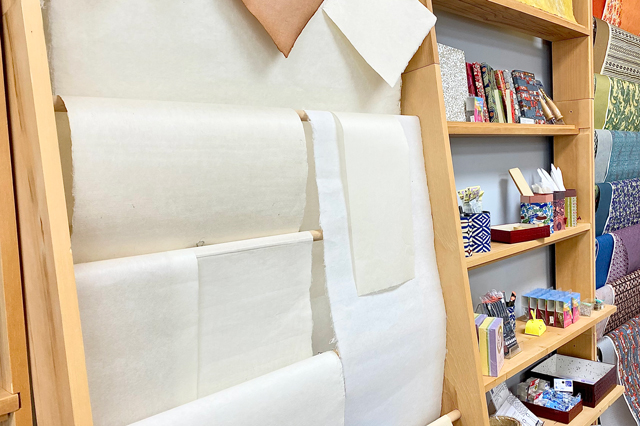 Quality washi is available at student-friendly prices. These introductory papers are good to have on hand. Suitable for multiple purposes, you can offer them with confidence to anyone interested in trying Japanese paper. Let's look at some kozo-based choices first.

Kozuke White and Kozuke Ivory, both good general-purpose papers. Made using a mix of kozo fibre and sulphite (wood pulp) and added sizing, Kozuke has a somewhat "western" feel. For people who are new to Japanese paper, these familiar qualities make it less intimidating. It is a quality paper, with an even surface and is an excellent choice for drawing with graphite, coloured pencil, and ink as well as for most printmaking techniques, especially relief printing.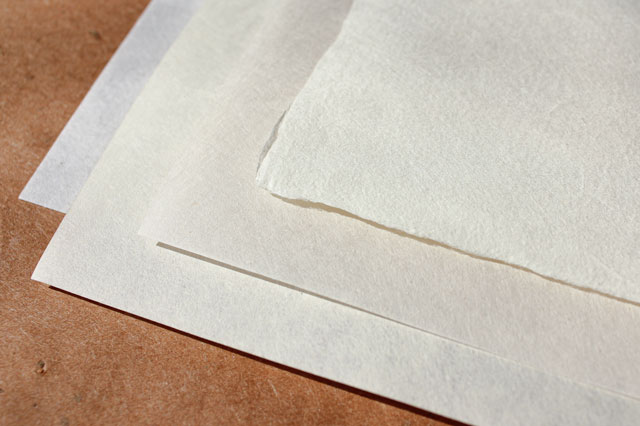 From left to right: Kozuke White, Kozuke Ivory, Usu Kuchi Heavy, and Uwa Senka
For an equally versatile full kozo paper, Usu Kuchi Heavy is prime example of everything a good Japanese paper can be, without the cost. Also machine-made, Usu Kuchi differs from Kozuke in that it is made of pure kozo and is unsized. It takes colour beautifully and is receptive to most drawing and printmaking methods. Because it is unsized, it's an excellent choice for projects that require great saturation, like dyeing.

Looking for a paper that is both pure kozo and sized, Uwa Senka is an excellent choice. A favourite among wood cut and lino artists, Uwa Senka also proves its worth when used for collagraphs and other intaglio techniques. Available in two sizes, with both sized and unsized options, you can't go wrong suggesting this paper. There is even a double-weight option that is great for letterpress! Sized papers provide delayed absorption when working on them with wet media. Artists printing mokuhanga, or drawing with ink, gouache, or watercolour will often seek sized paper for their projects.
From left to right: Classic Kitakata and Gampi Smooth
Papers made with Salago (Philippine gampi) make an affordable option for someone wanting to explore the gampi for the first time. Classic Kitakata is a pure salago, machine-made paper, that is lightly sized. A warm-toned paper with great consistency, it is an excellent choice for editioning any kind of print, including mokuhanga. It has a little more texture than one would expect from a true gampi washi, which makes it a beautiful choice for drawing with almost any media. Another great feature is that Classic Kitakata is available both in sheets and two widths of roll.

Formed in a larger sheet size than Classic Kitakata, Gampi Smooth, is exactly that, smooth with a slight sheen. Also, warm toned, with darker flecks, the surface holds detail very well. If you are drawing with pen or printing intaglio, Gampi Smooth is a great option.

Now, armed with the basics, you can confidently support your student customers with their Japanese paper selections. Remember, your representatives are always happy to help; don't hesitate to contact us with any questions regarding paper selection or uses.