The Japanese Paper Place was established by Nancy Jacobi in 1982. Wow! Forty years of sharing the beauty and inspiration of Japanese paper with the world. We'd like to thank you for your patronage and invite you help us celebrate our 40th anniversary. Between now and November we have a lot of plans — join us!
In-store Give-aways
From July 1st to November 30th, all customers who shop at our Toronto showroom will receive a special gift from us. The giveaway changes weekly, so come every week to collect them all! (1 item per customer with any purchase)
In-store giveaway in the first week of July was a bag of assorted Japanese paper!
Call for submissions: Longevity
The Japanese Paper Place invites you to create a work using our selection of Heritage Washi, to express the theme of "longevity" and what it means to you. We will host a juried show to be on exhibit at our Toronto showroom from 12 Nov - 10 Dec 2022 in celebration of our 40th anniversary. Work will be juried by Nancy Jacobi, Tara Moore-Jones and select staff from The Japanese Paper Place. For more details, check our Eventbright page.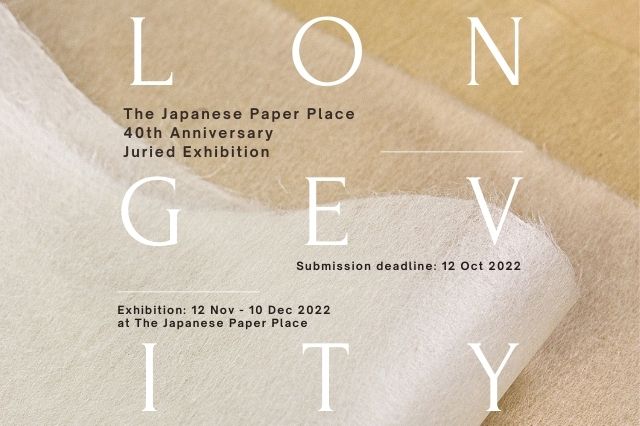 Meet the Papermaker
We are thrilled to have So Kubota, paper maker of Sekishu visiting us in November. Seminars and demonstrations are being planned.
Anniversary Celebration
On Thursday November 17th, we are hosting a drop-in celebration at our showroom. Come and join our party! No reservation required — everyone is welcome! More details to be announced.
And more!
Details of these events are coming soon. Follow us on Facebook or Instagram to stay up to date.