Suminagashi (墨流し) or "floating ink" is the process of creating a marbled design on plain paper with water and sumi ink. It originated in Japan, possibly as a form of meditative practice, and is seen in examples from as early as the 12th century. Suminagashi continues as a popular art form to this day.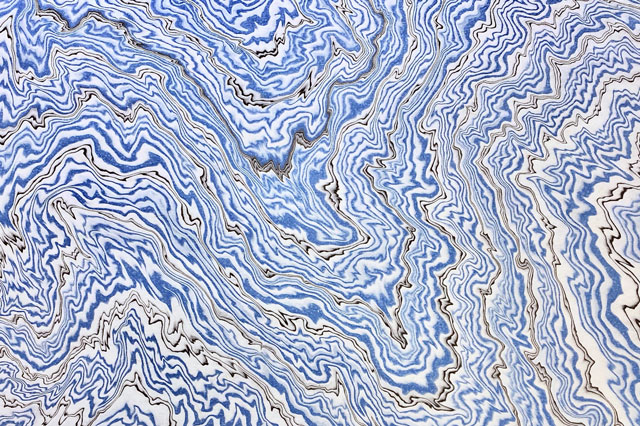 HMD7643 Suminagashi Blue is handmade by Tadao Fukuda, a holder of intangible cultural property designated by Fukui Prefecture - For more info; Contact us
Creating suminagashi designs is a simple process requiring minimal equipment: a basin for holding water, brushes, sumi or marbling inks, and, of course, washi. Careful drops of sumi ink are placed on the surface of still water and allowed to float. The ink drops are alternated with the barest touch of oil to create a space between the rings. Repeating the process of ink to water followed by oil to water, you can create patterns that resemble anything from a bullseye to a topographical map. Once satisfied with the pattern, a sheet of smooth kozo-fibre paper is gently laid on the surface and then lifted carefully. The dry, absorbent paper soaks up the ink design.
The designs have a very fluid character that are a direct result of having been created on the surface of water; the patterns shift with the slightest movement of the water. With time and practice you can gain a measure of control and achieve sophisticated results.
Paper decorated with suminagashi was traditionally used with brush calligraphy as a subtle, yet interesting background pattern to highlight the text. Today, finished papers are used in bookbinding, stationery, collage, mixed media, calligraphy and more.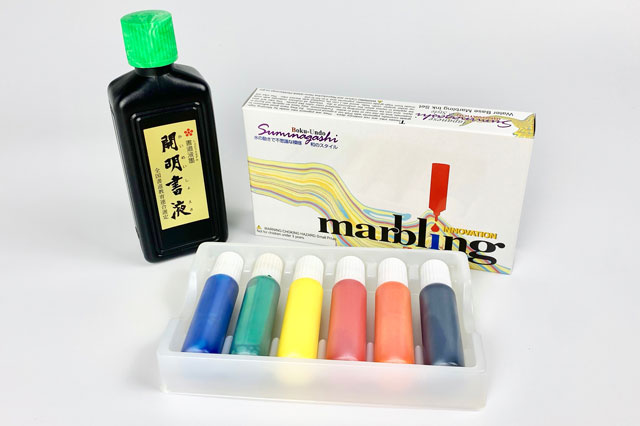 CSS8003 Sumi Ink - Economy (Green Lid) / CSS3188 Marbling Set
We've discovered that the Green Lid Sumi Ink works the best of the sumi inks we stock. Of course, the Marbling Set also is an excellent choice if you want to introduce a bit a colour.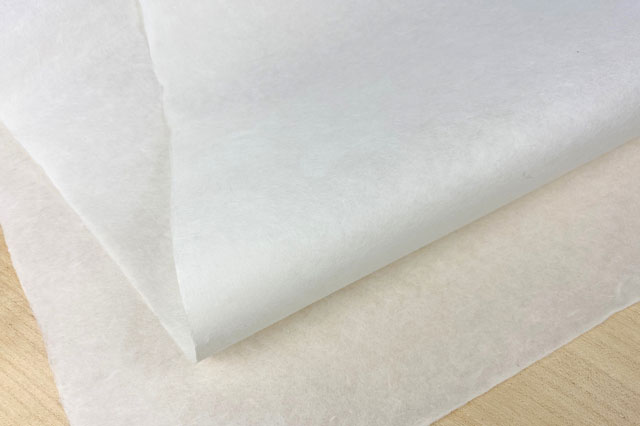 NAT1749 Iwami Natural
As for the paper, we recommend a mid-weight, smooth, kozo-fibre paper to start, but with practice, you will be able to use even light-weight, delicate washi choices. Our favourite papers for suminagashi are:
| SKU | Product name | Size | Weight |
| --- | --- | --- | --- |
| NAT1749 | Iwami Natural | 24 x 39" | 24g |
| NAT1221 | Iwami White | 24 x 39" | 24g |
| LRG1850 | Shoji Natural - Roll | 38.75" x 11 yds | 30g |
| NAT1723 | Tatami Blue | 25 x 37" | 50g |
| NAT1724 | Tatami Green | 25 x 37" | 50g |
| NAT1721 | Tatami Natural | 25 x 37" | 50g |
| NAT1725 | Tatami Orange | 25 x 37" | 50g |
| NAT1722 | Tatami Yellow | 25 x 37" | 50g |
| NAT1270 | Usu Kuchi Heavy MM (staff favourite!) | 25 x 37" | 31g |
| NAT1271 | Uwa Senka Long | 14 x 38.5" | 55g |
| NAT1272 | Uwa Senka Small | 12 x 17" | 55g |
| CSS12765 | Japanese Paper for Marbling & Dyeing - 100 sheets | 10 x 14.25" | |
| CSS8003 | Ink, Sumi – Economy (Green Lid) | 180 ml | |
| CSS3188 | Marbling Set | | |