Beam Paints are the result of a lifetime of creative exploration, and a deep love and respect for the natural world. The creation of Indigenous entrepreneur Anong Beam, her products make use of "lightfast pigments, tree sap, gum arabic, and Manitoulin honey, blend[ed] together to create a handmade saturated colour that is a joy to paint with... quality is evident in every stroke."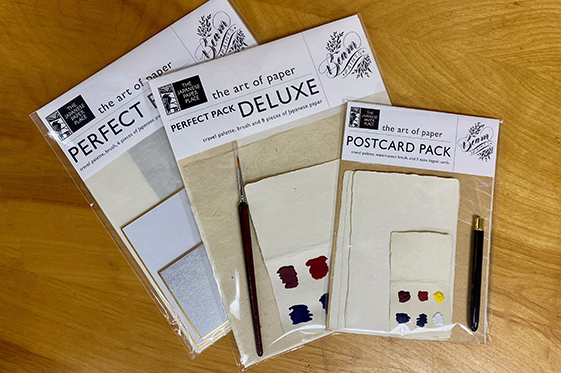 These paints and natural Japanese papers seem to be made for one another! Many years ago, in the early days of The Japanese Paper Place, Anong Beam's father, renowned artist Carl Beam, would come to the shop and purchase paper for his work, and for his daughter. His love and appreciation of the paper has been passed to Anong.

We are thrilled to continue this relationship in our new collaboration with Beam Paints and are pleased to introduce three new The JPP x Beam Paints packaged assortments featuring her travel palettes on two sizes of Etchu Card, and including Beam Paints custom brushes along with a luscious assortment of Japanese Paper.

We are currently offering the opportunity to pre-order these packages. Please contact your representative for details.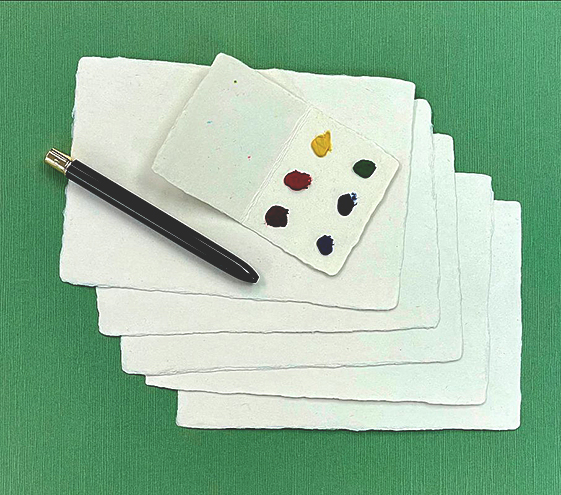 POT13716 Postcard Pack
Just the kit to throw in your bag before you head out the door, or give to a friend before they leave for that long-awaited trip.
Each package includes 5 handmade, pure kozohagaki cards (hagaki means: postcard size), a small Beam Paints Travel Palette with six colours (all you need to mix the rest), and a beautiful nylon round travel watercolour brush (Anong's favourite size, #4).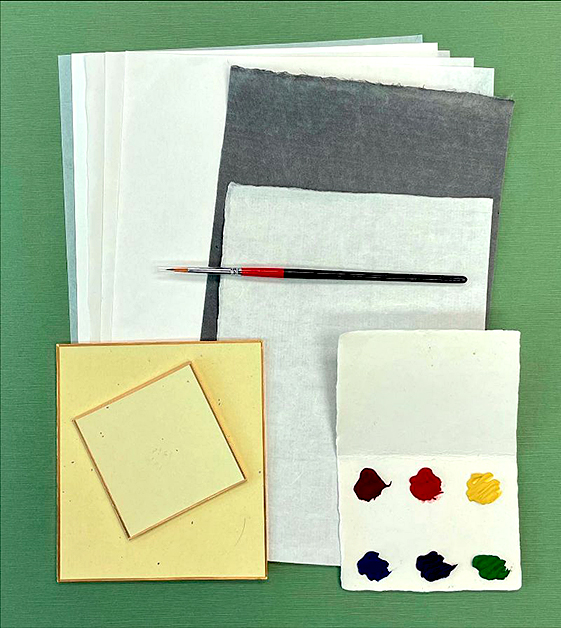 POT13717 Perfect Pack
Have you been curious about trying watercolour on Japanese paper, but weren't quite sure where to start. We have the Perfect Pack for you! Included in this package is one large six-colour Beam Paints Travel Palette, a #4 narrow-handle round nylon brush, and one each of the following washi:

Kozuke White 8.5 x 11"
Kozuke White Heavy 8.5 x 11"
Tatami Blue 8.5 x 11"
Iwami Natural 8.5 x 11"
Mitsumata Iron Oxide Grey 6.5 x 11"
Uwa Senka Small sized 6 x 8.5"
Shikishi Board 4.75 x 5.5"
Shikishi Board 3 x 3"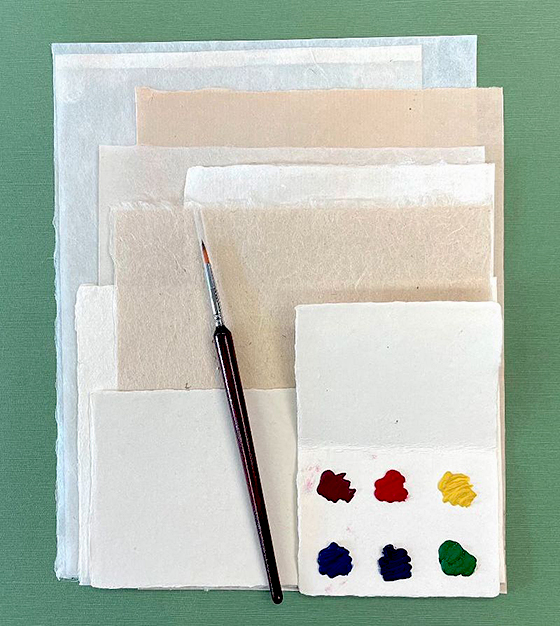 POT13718 Perfect Pack Deluxe
You know you love Japanese paper and you know you love colour. Now is your chance to explore the magical harmony of Beam Paints on some of the best washi, including Heritage Washi. Each package contains one large six-colour Beam Paints Travel Palette, one number #4 wide handle brush (so comfortable to hold!). Included in the package, is one piece each of the following washi:

Kizuki Kozo White 8.5 x 11"
Sekishu Mare Banshi (Large) - Heritage Washi 7.25 x 10.5"
Seikosen Mitsumata Yotsuban - Heritage Washi 7.25 x 10"
Hosokawa Kozo- Heritage Washi 7.75 x 9"
Uwa Senka Small Sized 6 x 8"
Uwa Senka Small Doubleweight 6 x 8"
Oguni Shikishi Chiri 7.5 x 7.5"
Hagaki Kozo Card 4 x 6"
Brushes and Palette Cards are not available separately.
For more about Beam Paints, please visit: www.beampaints.com